Brand New Close To My Heart Cricut Cartridges
Category: My Crafty Projects | Permalink
Published: Friday, June 30, 2017
Hi everyone!
I'm currently at the Close To My Heart Convention in Salt Lake City, Utah... wahoo!!! I'm so in aww of all the amazing new products. I can't wait to update you all on all the new releases. If you follow me on Instagram @MandyLeahy, you may have already seen them. One of the big announcements that I'm super duper excited about is the NEW Cricut Cartridges. Yes, that is plural. There are TWO new Cricut Cartridges available. Ahhhhhh! Yay! I've already been receiving some messages from my awesome customers wanting to know if they can pre-order this. You all know the drill from years ago when I would offer that as an option. Sooooo... lets do it again!!!!
Beginning August 1st, you can order the NEW Close To My Heart You Are Here Cricut Collection and the Close To My Heart Hello USA Digital Cartridge on my CTMH website. However, for those of you who are interested in pre-ordering either one or both of these cartridges, then I have an AWESOME offer for ya between now and July 31st. Everyone who pre-orders this will receive the BRAND NEW CTMH Annual Inspirations Idea Book, plus FREE SHIPPING!!! Woot woot!!! Just like with our other Close To My Heart Cricut Collections, the You Are Here Cartridge has 700 images! Whether you're taking a road trip, camping, having a fun staycation, wine tasting or even traveling abroad... this You Are Here Collection will feature loads of images to help you document the memories. It has images that will even work for family reunions and spa retreats to holiday trips and other outdoor adventures. You'll absolutely love all the shapes, phrases, titles and the super cute font. This collection includes the You Are Here Cartridge, 3 My Acrylix Clear Stamp Sets and a pack of the Enchantment cardstock combo pack. The Collection cost for You Are Here is $99 if you'd like the physical cartridge or $79 if you'd like the digital cartridge.
We also have a new DIGITAL Cricut Cartridge called Hello USA. So if you have a Cricut Explore, Cricut Explore Air or a Cricut Explore Air 2 then this one works for you. It includes 60 layered images from state shapes, overlays and even the names of all 50 states, plus the local flowers, state icon and slogans. There is an additional 10 images about the United States, the different regions and American Flag. I have no doubt this one is going to pair up really nicely with the You Are Here Cartridge too. The cost of this Hello US Digital Cartridge is $49.95.
If you'd like to place a PRE-ORDER, you can make your selection from the following options using the drop down menu below. Keep in mind there are two cricut cartridges available and the You Are Here Collection comes in both a digital and a physical cartridge. While the Hello USA is only available in the Digital option. You'll be able to pick 1 or both and have the option to add on this super cute School Year Stamp Set which is the August Stamp of the Month. It is so cute! It's only $5 if you'd like to add that.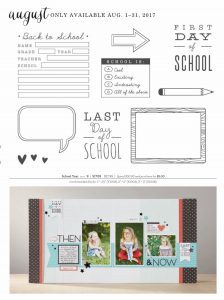 Please note: All Pre-Orders will be placed on August 1st as soon as products are live. The Idea Books will be sent from me as soon as I receive my shipment which should arrive within the next week or two. Products featured in the Idea Book are not available for purchase until August 1st. There is loads of inspiration and ideas that I know you will absolutely love!
If you want these Cartridges sooner than August 1st, you can become a Close To My Heart Consultant and as a Consultant Perk you'd be able to order them starting July 1st. If you're interested, check out my Join CTMH page! It's just $75 to join and you receive a $50 Select Product Credit (can't be applied towards a cartridge).
If you have any questions, please let me know. I'm here to help!